Create an interactive experience for your guest. Each photo is printed out on sticker paper and applied to a specific location by your guests to create a beautiful image by the end of the night.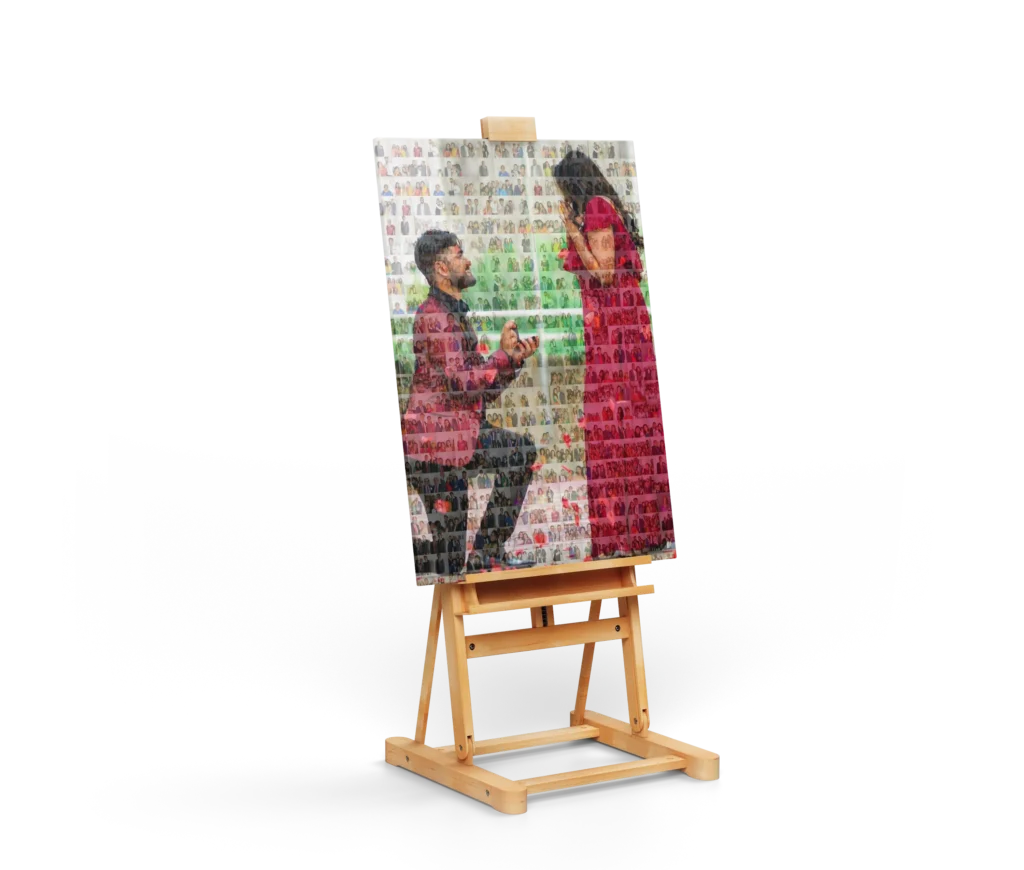 Standard
$1400
Features
Selfie Photo Booth Package Included

Instant Digital Sharing

Photo Booth Attendant

Digital Gallery

All photos are available to view and download online after the event

Virtual Props

Similar to a Snap Chat FIlter, our software will use AI to add Fun Virtual Props of their choosing

Up to 3 Hours of Service

Physical Mosaic (24 in x 36 in - 216 photos)

Digital Download of Mosaic Image
Book Now
Premium
$1600
Features
Premium Photo Booth Package Included

Instant Digital Sharing

Photo Booth Attendant

Digital Gallery

Physical Props

Up to 4 Hours of Service

2x6 Printed Photo Strip

Guests will receive high quality prints

Physical Mosaic ( 24in x 36in - 216 Photos)

Digital Download of Mosaic Image
Book Now
**Additional Upgrades Available Below**
Why Should i book a mosaic Photo booth?
Our innovative photo booth technology takes guests' photos and creates a stunning mosaic of your chosen image or logo – made entirely from your guests' individual photos!
Our mosaic photo booth is perfect for weddings, corporate events, and any celebration where you want to create a unique and memorable keepsake. Your guests will love seeing their photos become a part of the final design, and you'll have a stunning, one-of-a-kind piece of art to treasure long after the event is over.
So why settle for a standard photobooth when you can offer your guests an unforgettable experience with our Mosaic Photo Booth!!
last step is to take a step back and enjoy as the mosaic comes to life + you get an amazing keepsake to take home
Here our some of our many options. Wanna get creative, we'd love to collaborate!
Don't see your question? Contact us at anytime
How many photos are needed to create a mosaic?
The numbers of photos needed to make a mosaic will depend on the size of the final image you've chosen for your package. We recommend at least a 24x36 poster size made up of 216 individual photos.
What is a mosaic photo booth?
A mosaic photo booth is a unique and interactive experience that creates a large photo mosaic made up of smaller individual photos taken during the event.
Can you provide a photobooth for outdoor events?
Yes, we can provide a photobooth for outdoor events, as long as there is access to a power source and adequate shelter from the elements. Please discuss with our team before booking your outdoor event.
What happens if my event runs longer than the allotted time for the photobooth?
Our photobooth attendants don't mind staying an extra 5-10 minutes to accommodate any guests still waiting after the alloted time but If your event runs much longer than the allotted time for the photobooth, we can provide additional hours at an additional cost.
What happens if the photo booth equipment malfunctions during my event?
Although we have a 99% uptime over hundreds of events, If the photobooth equipment malfunctions during your event, we will work quickly to resolve the issue. In the unlikely event that we are unable to resolve the issue, we will provide a refund or partial refund for the affected portion
Do you offer discounts for multiple events or referrals?
Yes, events with multiple packages or days will receive a custom discounted package from our team. Loved our service and want to refer us, send us a message and we'll send you a special link to share to your friends and family.
What is your cancellation policy?
See your contract or contact us regarding cancellations. We will do our best to help!
How far in advance should I book your photobooth services?
We recommend to book as early as possible. Use our online booking system to easily check availability and reserve your date.
What type of events do you provide photobooth services for?
Weddings | Engagements | Birthdays | Sweet 16 | Baby Shower | Bridal Party | Holidays | Quinceanera | Bat Mitzvah | Graduations | Reunions | Proms | School Dance | Retirement Party | Corporate Events | Trade Shows | Parties and more
Does idle time count towards our hours of service?
Yes idle time counts towards the hours of service. Our hours of service commence when the first guests are scheduled to be in the same room as our setup. We understand the importance of timing, and strive to ensure that our setup does not disturb your guests and is complete